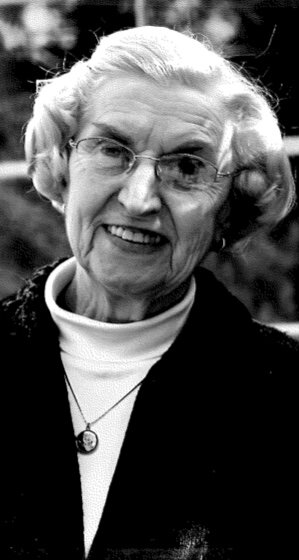 Obituary of Katherine Theresa Shaffer
Please share a memory of Katherine to include in a keepsake book for family and friends.
Katherine Theresa Shaffer
Katherine Theresa Hershberger Shaffer, a native of a Roebling, New Jersey and long-time employee of a major Pennsylvania steel plant, died on September 25, 2022 in Yardley, Pennsylvania.
Katherine Theresa Shaffer was born on June 26, 1928 in Roebling, New Jersey to Katherine Brenner Hershberger and Milton Hershberger, immigrants from Austria-Hungary.
While growing up in the company town of Roebling during the Depression and World War II, she went to see the Roebling baseball and football teams play, leading to a lifelong passion for Philadelphia's baseball and football teams. She and a friend went to a Philadelphia Athletics baseball game once, sitting behind the A's dugout and owner/manager Connie Mack. She also went to a couple of Philadelphia Phillies games in that era. She enjoyed watching the Phillies and Eagles ever since, being thrilled by the Phillies' two World Series wins in 1980 and 2008 and the Eagles Super Bowl victory in 2018.
After graduating from Florence High School in 1945, she worked for John A. Roebling's Sons keeping records of what was being made at, and shipped from, the plant, which made steel cable for suspension bridges. After working at the Roebling plant, she went to work in Trenton at the Standard Fire Insurance Company for about five years, where she was the main bookkeeper.
In the early 1950s, she started working for US Steel's new Fairless Works plant near Morrisville, Pennsylvania and met her future husband Earl there. She worked in the Metallurgical Department for most of her career and performed a myriad of administrative tasks to keep the department running. She recalls it as a rewarding job, which involved work in the sheet, tin, and galvanized areas of the plant. She supplemented her company training with a lot of self-education. For many years she was the secretary assigned to Raleigh Miller, the General Manager of the sheet, tin, and galvanized operations. She was proud of being the only woman at the mill who knew the whole steel-making process.
She married Earl in 1953. In 1956, their son Thomas was born in 1956 and they moved to Morrisville. Once Tom was in high school, she returned to U.S. Steel for twenty-three more years until she retired in the early 1990s, when the plant closed.
In 1976, Katherine and Earl moved to Washington Crossing, PA and continued living there after they retired. During that time, Katherine and Earl traveled to Florida, Graceland in Tennessee, and Bellingrath Gardens in Alabama. Elvis was one of her favorite entertainers. While living in Washington Crossing, she helped Earl, an avid gardener, maintain their beautiful flower gardens.
Earl died in 1998 at the age of 71. They had already made arrangements to sell their Washington Crossing home and move to a new older adult living community in Yardley. Katherine lived there for 22 years until 2020. She was active in the homeowners' association and in her church, and was proud of her independence and having voted in every election that she could. She moved to Manor Care/ProMedica Oxford Valley in 2020. She has risen above hardships throughout her life and succeeded at having a fruitful and happy family life.
She is predeceased by her husband, a half-brother and a half-sister. She is survived by son Tom and his wife Virginia Thompson of Swarthmore, PA, grandchildren Brian and Caroline, brother Milton, two nieces, and one nephew.
Her funeral Mass will be celebrated at 10:30am Wednesday September 28, 2022 at St. Ignatius Church, 999 Reading Avenue in Yardley, PA. Burial will follow in Newtown Cemetery, Newtown, PA.