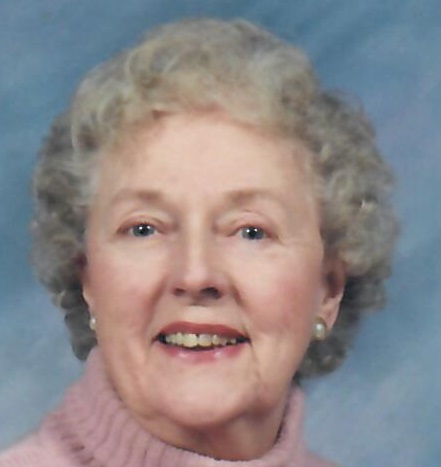 Obituary of Paulina J. Sanford
Paulina Joyce Sanford of Lower Makefield Township, PA died peacefully at home on Saturday November 10, 2018. She was 93.
Born in Harbourton, NJ, daughter of the late Paul F. and Myrtle Golden Johnson, she resided in Lower Makefield for the past 60 years.
A graduate of Central High School in Pennington, NJ in 1943, Joyce joined the WWII workforce at Eastern Aircraft as an administrative assistant. After the War ended, she began her nursing studies at the William McKinley Hospital School of Nursing in Trenton, NJ and graduated in 1948. She stayed on at the Hospital as a nurse on the Medical/Surgery floor.
In 1949, Joyce married George H. Sanford, Jr., they were married for 50 years until his death in 2000. Over the years, she was an active member of the Newtown Presbyterian Church and its women's group.
Wife of the late George H. Sanford, Jr. and sister of the late Ella Elizabeth "Betty" Harding, she is survived by two sons and daughters-in-law, Keith P. and Cindy Sanford of Nescopeck, PA, and Scott K. and Betsy Sanford of Yardley, PA; a daughter and son-in-law, Karen J. and Kenneth F. Rebert, Jr. of Yardley, PA; five grandchildren; Kurt S. Rebert, Kelly J. (David) DeMaria, Eric P. (Jennifer) Sanford, David J. (Courtney) Sanford, and Jeffrey M. (Nikki) Sanford; two great grandchildren, Everleigh and Dakota; sister-in-law, Rho Bailey; first cousin, Colon Smith, and many caring nieces and nephews.
We hold you close within our hearts and there you will remain
To walk with us throughout our lives
Until we meet again.
Your loving family
Family and friends are invited to attend her funeral service at 11am Thursday at the FitzGerald-Sommer Funeral Home, 17 S. Delaware Avenue (River Road), Yardley, PA, and calling hours from 6pm to 8pm Wednesday and on Thursday from 10am at the funeral home. Burial will be at Harbourton Cemetery, Harbourton, NJ.
Memorial contributions may be made to the Newtown Presbyterian Church, 25 N. Chancellor Street, Newtown, PA 18940.